Hello! You're looking at a policy document report on Overton
We track government policy, guidelines, think tank research, working papers and more to help our customers see the impact and influence of their work.
If you fund, produce or manage research or work to influence policy, we'd love to talk. Learn more on our homepage.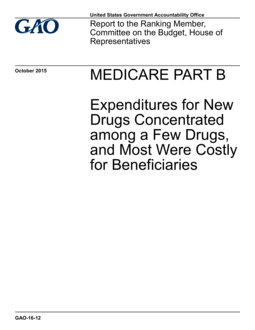 Medicare Part B: Expenditures for New Drugs Concentrated among a Few Drugs, and Most Were Costly for Beneficiaries

U.S. Government Accountability Office
on
November 20th 2015
New Medicare Part B drugs were more likely than new drugs not paid under Part B to be biologics, that is, products derived from living sources; be approved to treat a narrower range of conditions; and to have used a Food and Drug Administration (FDA) program to expedite their development and review.
Topics in this document
Related SDGs


In 2010, nearly 90 percent of Medicare beneficiaries had some form of supplemental coverage. 7
On page 6
7 The Henry J. Kaiser Family Foundation, A Primer on Medicare: Key Facts About the Medicare Program and the People It Covers (Menlo Park, Calif.: Mar. 20, 2015).
On page 6