Hello! You're looking at a policy document report on Overton
We track government policy, guidelines, think tank research, working papers and more to help our customers see the impact and influence of their work.
If you fund, produce or manage research or work to influence policy, we'd love to talk. Learn more on our homepage.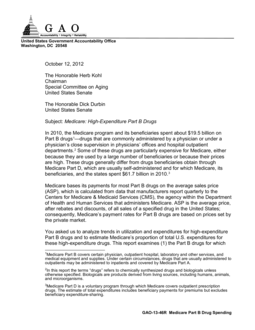 Medicare: High-Expenditure Part B Drugs

U.S. Government Accountability Office
on
November 13th 2012
In 2010, the 55 highest-expenditure Part B drugs represented $16.9 billion in spending, or about 85 percent of all Medicare spending on Part B drugs, which totaled $19.5 billion. The number of Medicare beneficiaries who received each of these drugs varied from 15.2 million receiving the influenza vaccines to 660 hemophilia A patients receiving a group of biologicals known collectively as factor viii recombinant, which had the largest average annual cost per beneficiary--$217,000. Our analysis showed that most of the 55 drugs increased in expenditures, prices, and average annual cost per beneficiary from 2008 to 2010. The 5 drugs with the largest increase in Medicare expenditures over this time period also had the largest increase in the number of beneficiaries receiving each drug. Four of the 10 drugs which showed the greatest increase in expenditures were also among the 10 drugs showing the greatest price increases.Spending on Medicare beneficiaries accounted for the majority of estimated total U.S. spending
Topics in this document
Tags you've given this document
You haven't tagged this document yet.
All research cited by this document
We didn't see any research cited in this document.